16 ASEAN youth listed as top data talent in CADS Sunrise Award
SINGAPORE, 13 July 2022: The Center of Applied Data Science (CADS) is announcing 16 young top data talents in Southeast Asia through its CADS Sunrise Award.
Among the award winners, Singapore, Malaysia, and The Philippines were represented by four winners each, while three winners represented Indonesia and the remaining one represented Thailand.
CADS's mission has been to leverage youth's advancement in this part of the world through mass adoption of data literacy skills to future proof their career in the long run. We thrive on being an avenue for you to learn data literacy skills from A to Z.
Previously, CADS has collaborated with multiple agencies and organizations throughout this region to push this agenda forward through multiple initiatives. In 2021, CADS announced its Project2100 initiative to create an ecosystem of highly skilled data graduates and professionals to meet the needs of companies for data-literate talents in Southeast Asia.
In 2019, CADS announced a collaboration with the National Association of Women Entrepreneurs of Malaysia (NAWEM) to bring Data for Her initiatives to encourage women's participation in the country's IT (Information Technology) sector to boost the nation's economic growth.
"Through CADS Sunrise Award, we want to honor rising stars who are creating a positive impact in data science, analytics, and AI (Artificial Intelligence) fields," said Sharala Axryd, CEO and founder of CADS. "This annual award will set an industry standard for top young data talent hallmark in this region in the coming years," she added.
CADS Sunrise Award aimed to recognize top ASEAN talents in data space as a pioneer to expand the interest of youth to participate in this industry which will eventually make ASEAN as global's leading big data hub.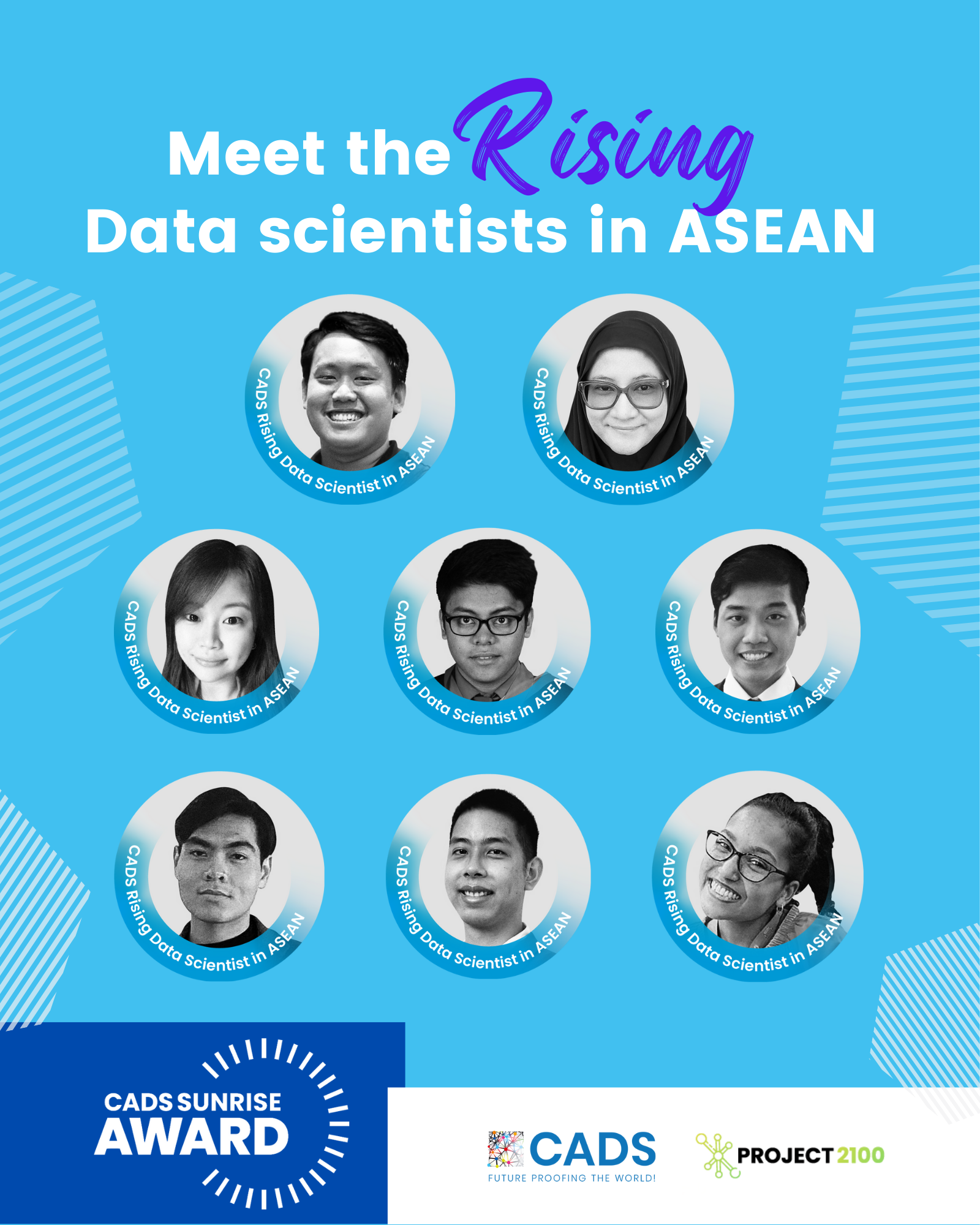 List of awardees:
Malaysia
Neoh Siang Gee  (SVP Advance Analytics at Ambank)
Muhammad Amer Wafiy Bin Mohd Khir (Lead Data Scientist at Invoke)
Eugene Low (Lead Data Scientist at Setel)
Divya Dhandevi Woodun (Data Scientist at iPrice Group)
Singapore
Hemmanth Prabakaran (Executive Director, Head of Data Analytics and Insights of Standard Chartered Bank)
Bryan Tan (Chief Data Scientist of Carro)
Ulysses Chong (Senior Data Scientist at Grab)
Lim Si Jie (Data Scientist at Finantier)
The Philippines
Jefren Paulo Abalos (Senior Data Scientist at Kumu)
Jude Michael Teves (Data Engineering Consultant at AIA Phillippines)
Christian Justine Clemente (Data Scientist at RingCentral)
Rafael Macalaba (Data Scientist at Growsari)
Indonesia
Agus Jamaludin (Senior Data Scientist at PT. Petrosea Tbk)
Ernitia Paramasari (Data Scientist at Dagangan)
Metta Ryanni Hidayat (Data Scientist at Point Star)
Thailand
Preeyanuch Leelapisuth (Data Scientist at Pomelo Fashion)