Effective Data Practices To Ensure Success In Digital Transformation.
Getting the flow of data right throughout the organization hinges on effective data management by non-IT business units.
In every organization, effective data management is the answer to negotiating the ups and downs of the digital transformation journey. This means getting complete and accurate data access to all employees to achieve successful digital transformation and the business outcomes tied to it.
According to a Gartner Chief Data Officer Survey, data sharing is a business-facing key performance indicator of achieving effective stakeholder engagement, as well as providing enterprise value.
The global research firm found that chief data officers who have successfully executed data sharing initiatives in their organizations are 1.7 x more effective at showing business value and return on investment from their data analytics strategy.
However, the reality can be very different, sometimes. Many heads of non-IT business units are encumbered and bogged down by legacy systems that don't talk to one another, leaving them working in silos. Hence, most organizations fail to achieve data and analytics at scale, scuttling all digital transformation plans.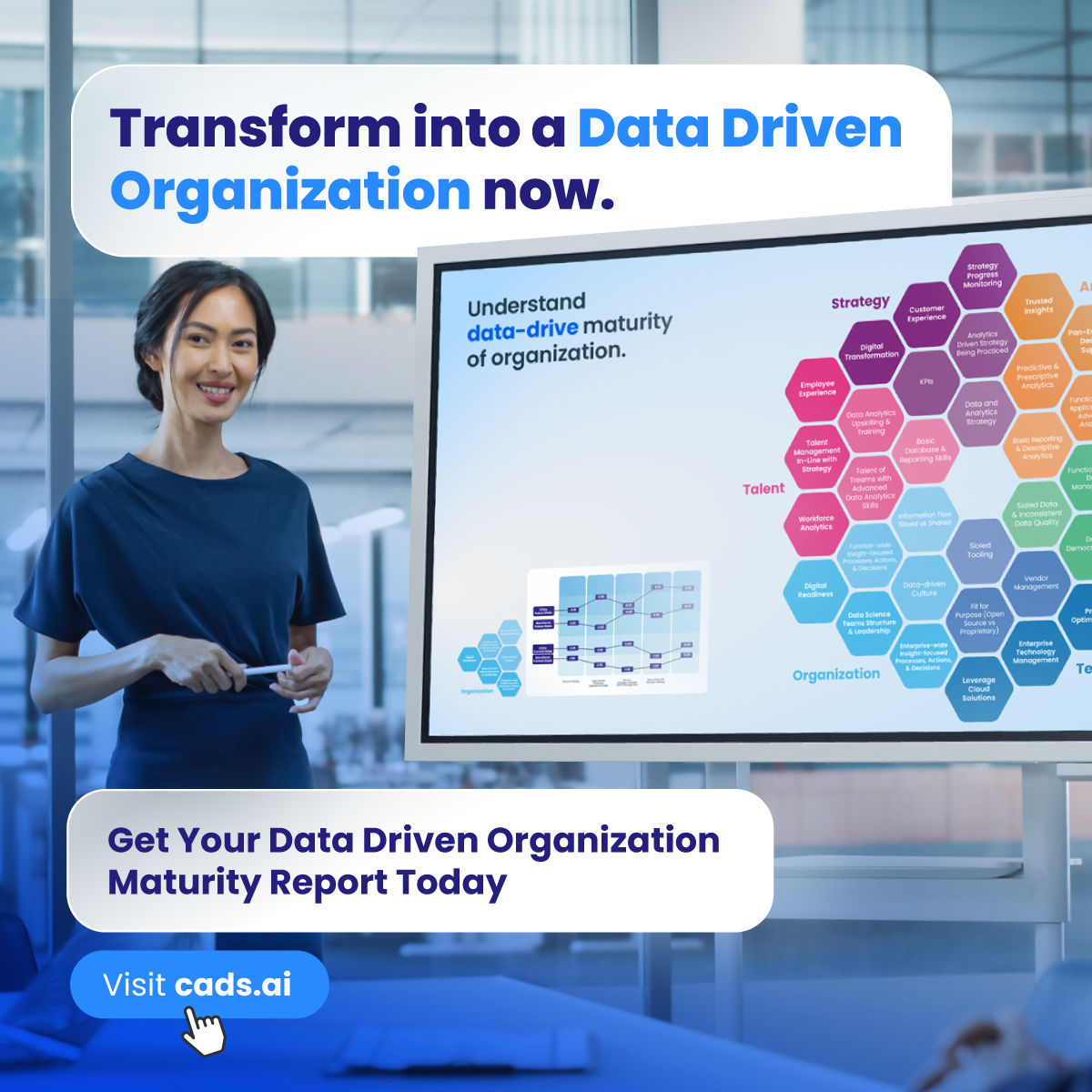 Free Data-Driven Organization Evaluation Tool
CADS.AI offers a free evaluation tool of your teams or organization with the online DDO framework.
Try it for free
As head of a business unit or department, what can you do to help facilitate the free flow of data throughout your organization, in order to drive digital transformation? Stay tuned, there's plenty you can do to make life easier for you, and your IT department head or chief technology officer, who is likely championing your digital transformation efforts.
Here are some key points the heads of non-IT business units need to be cognizant of:
1. Understand that you are all working towards the same goal.
Although IT may be heading digital transformation and hence, getting your organization to be fully data-driven, you as the head of your department need to get on board with the plan. This means acting on the communications plan drawn up by C-suites and informing your staff exactly what being data-driven means and how it will benefit them and the organization in the long run. You need to take ownership of your people's career development and steer them in the right direction so that everyone works towards one goal: achieving successful digital transformation.
2. Silos can be broken.
If you have a bunch of staff members who are resistant to change or simply clueless regarding how to be more data literate, ensure that you break the silos within your business unit before you handle inter-department silos. Work with your CTO and/or IT colleagues to ensure that all your staff are up-to-date on work matters and are able to work together.
3. Data management processes can be integrated into workflows.
Another thing that heads of business units need to know is to learn how to integrate data management processes into their department workflow. If this means swallowing your pride to get IT to sort out the more technical aspects of this process, then so be it. Take the initiative to learn how the process works and be an active learner. It'll make you stand out and perhaps motivate other heads of the department to follow suit.
need help with your digital transformation? email us.
engage@cads.ai
4. Improving data literacy is crucial.
Educating yourself on data management and being more data literate is your job as your organization undergoes a data-driven transformation. Realize that you and your staff members need access to and the know-how to handle data so that you're equipped with the insights needed to solve business problems and act in your customers' best interests.
A change in culture can be difficult, however, doing your part to be more data literate and leading your staff members down the same path will result in quick, as well as long-term wins for yourselves and the entire organization.
In our white paper "Talents not technology will make or break your digital transformation", you will learn how the business units of non-IT organizations transformed themselves with the right interventions involving implementations of our Data-Driven Organization™ Model and our AI-based platform CADS AI Skills Intelligence Platform™.
These organizations developed effective data management processes that became organization-wide, creating synergy throughout their entire workforce and ultimately, a more accomplished and motivated workforce.
Click on the link below to download the whitepaper or book a demo today.
---
#digitaltransformation #leadership #DDO #dataanalytics #datascience #business