How to Build Trust in AI: A Guide to Responsible AI Practices
CADS.AI launches it's first FREE AI assessment and certificate on Responsible AI on its skills intelligence platform.
---
Highlights:
CADS.AI Introduces FREE Responsible AI skill certificate and learnings on skills intelligence platform.
The free intro assessment and certificate covers Responsible AI principles for non-technical roles.
The paid, Enterprise Generative AI Practitioner (EGAIP) learning path offers in-depth understanding and knowledge on responsible AI best practices, frameworks, and prompt engineering.
---
Why The World Is Going Gaga Over AI?
Have you observed the increasing integration of AI in our everyday lives and enterprises? AI is deployed in various tasks and functions, including web browser add-ons, automating tasks in Microsoft Excel, analyzing vast datasets for research, and even chatbots. AI presents a futuristic and thrilling solution for individuals and businesses alike.
"Generative AI tools have revolutionized human-machine interaction, making it as simple as texting and has transformed how we think, work, and play."
As AI evolves, it will have even more diverse applications, making it an essential tool for individuals and organizations who want quicker, better, and more informed results. Investing in AI is the way forward for those who want to stay ahead of the game.
Did You Know:
44% of global leaders saw an increase in productivity with AI adoption at work.
Are your teams AI ready?
CADS.AI offers a FREE AI Skill Certificate to validate their knowledge & awareness.
Get It Here
Irresponsible AI Usage
While we fully support the widespread use of AI due to its numerous advantages, it is still new, and we must learn to wield these powerful tools with caution.
"Remember, misusing AI tools can result in biased outputs, flawed insights, and even reputational damage in some cases."
This raises some very valid concerns for business leaders eager to adopt AI while being uncertain about their employees' ability to use it responsibly.
Even a few employees using AI irresponsibly can impact the organization's adoption of AI. It can lead to distrust in AI tools, resistance to using AI-driven insights, and hinder overall digital transformation efforts."
Did You Know:
The majority of AI companies haven't taken key steps to ensure the trustworthiness and responsible use of their AI tools and systems.
74% are still working on reducing bias in their systems
68% are still tracking performance variations & model drift
61% are still ensuring they can explain AI-powered decisions
Source: IBM Global AI Adoption Index 2022

Possible Risk Mitigation For AI Adoption
In today's competitive business environment, where agility and innovation are crucial, such instances can cause setbacks. To mitigate these risks, it's worth noting that CADS.AI is working to address knowledge and awareness gaps.
Here are some AI accuracy risks that companies may face
during AI adoption:
Illegal use of data for training purposes.
Leakage of confidential training data.
No motivation / explanation for decisions.
Replication of wrong, funny or offensive user inputs.
Poor data classification.
Shape The Future of AI Responsibly
As the use of AI support increases, organizations must confront challenges caused by irresponsible AI usage. Promoting awareness, providing training, and encouraging certification programs can help foster responsible AI usage.
This approach can reduce risks for both employees and the organization, shaping a better future for AI usage.
"Responsible AI usage is not a hindrance to getting started. It's a step towards a future where AI tools can improve everyone's capabilities ethically and sustainably."
---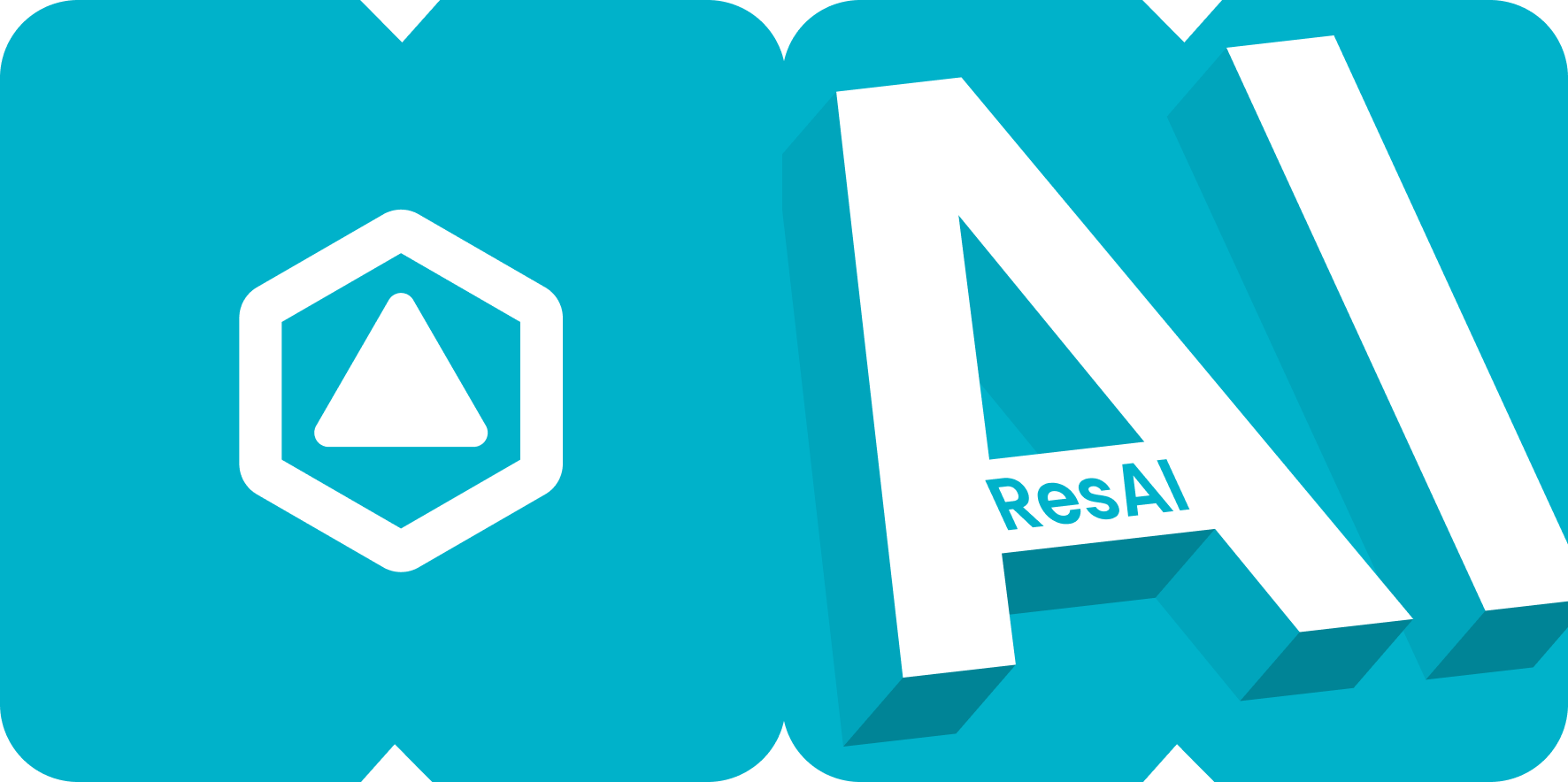 Responsible AI Skill Assessment?
CADS.AI has launched a new skill assessment on the platform called the Responsible AI Skill Certificate to assist you in achieving AI success. This straightforward questions ensures that anyone can possess the necessary knowledge and awareness of AI tools and maintain high standards when utilizing them.
It's a certificate that validates an individual's understanding and practical knowledge of generative AI, including its potential impacts and risks.
"Leaders can trust that employees with this certification have a solid grasp of AI tools, adhere to best practices, and are aware of potential risks."
How Do I Get It
The Responsible AI Skill Assessment is FREE and available on CADS.AI Skills Intelligence Platform all you need to do is:-
Register as a user (Free)
Take the assessment (Free)
Once completed, a link with your certificate (Free) will be available for download or shared with you directly.
Responsible AI Skills Certificate: Get It Now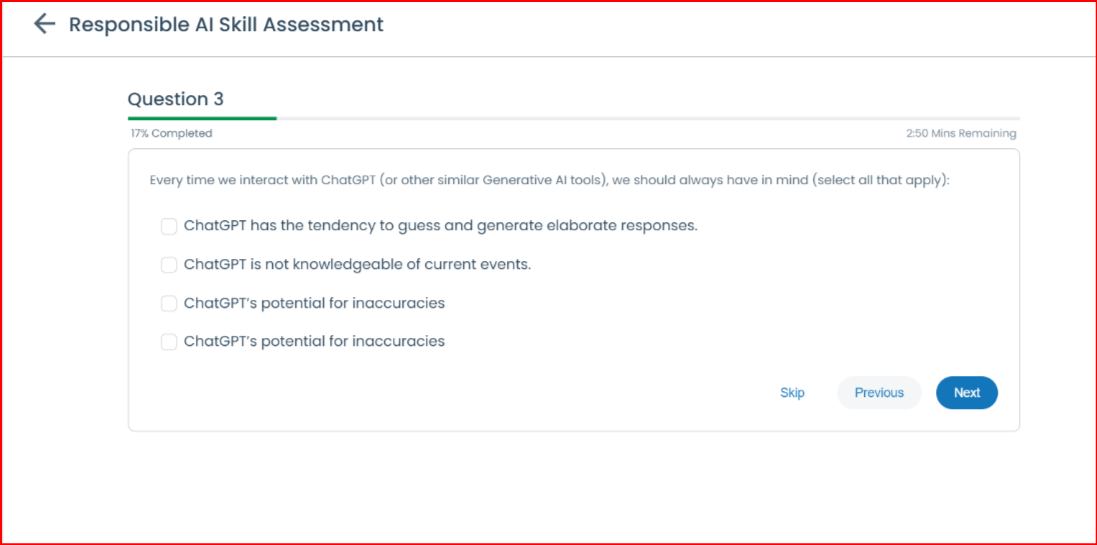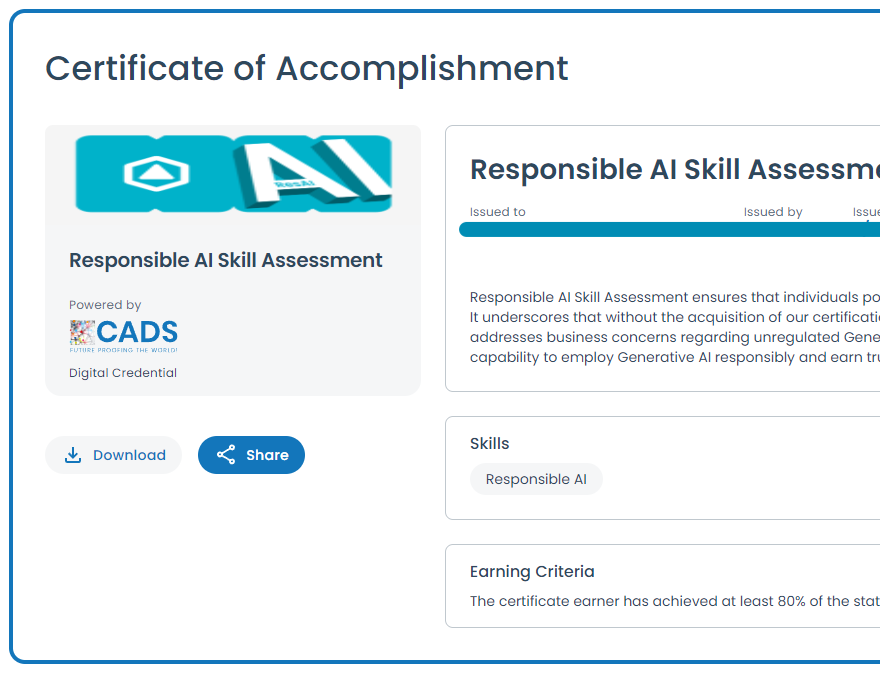 Responsible AI Skill Assessment FAQ
1. What's In the Responsible AI Skills Assessment?
The questions are straightforward and assess understanding of generative AI, its constraints, and common myths.
2. What score required to get the Responsible AI certificate?
You will need a score greater than 70% on the Responsible AI test to receive a certificate of accomplishment.
3. Can the test be retaken?
Yes, it can be retaken once a week.
4. How does the certificate help me?
Getting the Responsible AI Skill Certificate shows that you have the necessary foundations in using Generative AI and aware of its strengths and weaknesses.
It also encourages your team and leaders to prioritize data literacy and digital advancement.
5. How long does it take to complete the test?
The assessment takes approximately 20 minutes to complete.
Responsible AI Skills Certificate: Get It Now (FREE)
Got a question? email us at engage@cads.ai
---
Encouraging Responsible AI Usage for Success
The responsibility of using AI ethically is not limited to a few individuals. Leaders must create an environment that motivates their teams to use AI responsibly. Every member of an organization should be aware of the significance of responsible AI usage.
Leaders can help their teams make informed decisions by promoting continuous learning, providing access to training resources, and emphasizing the importance of ethical AI practices.
By doing so, they can guide their teams toward success with AI.

Being Future Ready With Generative AI Skills
Are you interested in being future-ready with generative AI skills? Look no further than CADS.AI's Enterprise Generative AI Practitioner (EGAIP) learning path. This comprehensive course covers essential topics such as understanding LLMs, prompt engineering, addressing biases, data privacy, and transparent decision-making.

EGAIP has two modules: Responsible AI (the actual course) and Data Literacy Prompt Engineering with ChatGPT. Both modules will be available on the CADS.AI platform soon.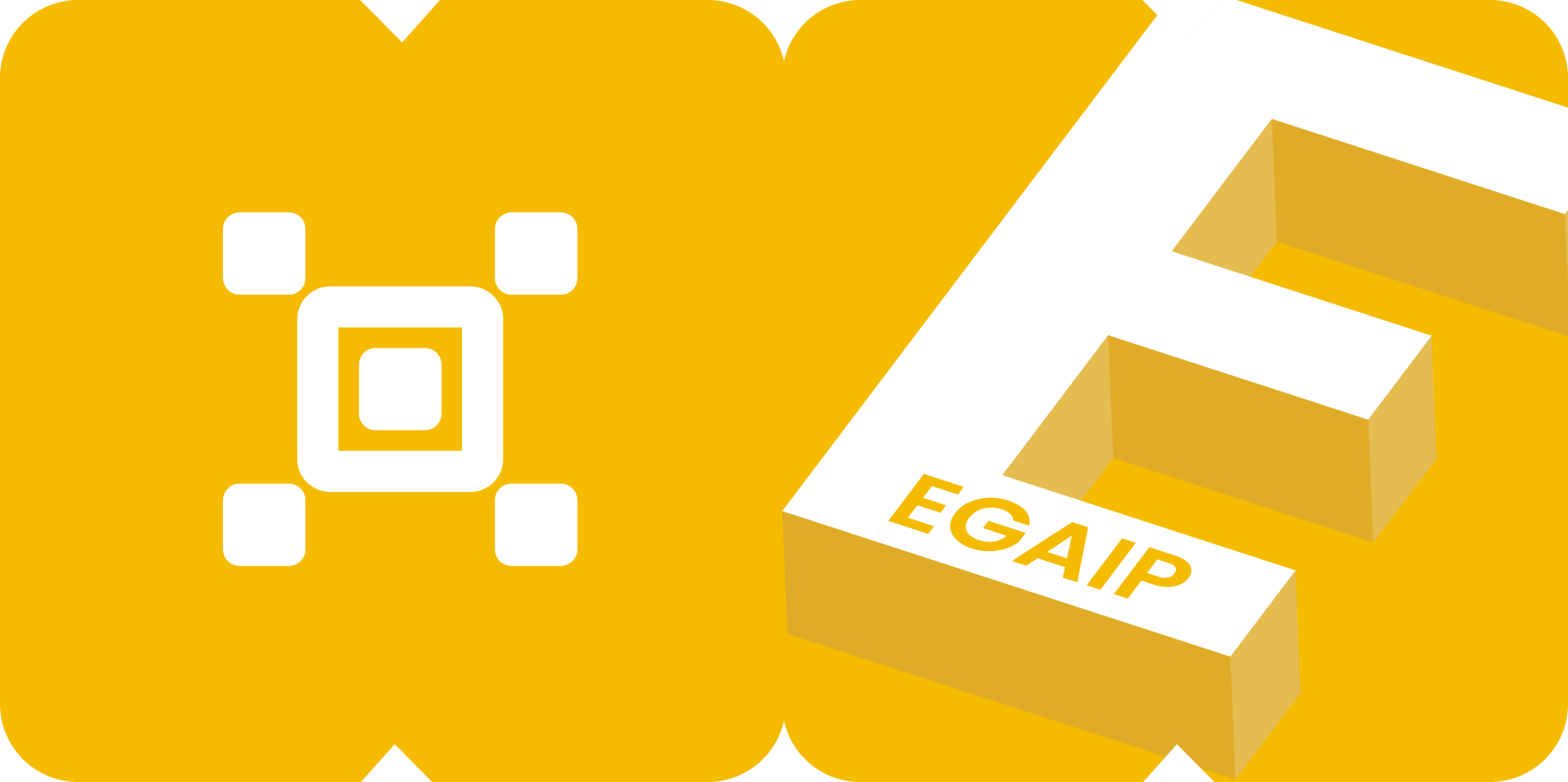 Completing EGAIP will equip you with best practices and frameworks for understanding generative AI, without requiring technical knowledge. You'll be able to positively contribute to a culture of successful AI usage across your organization.
Take the first easy step with the Responsible AI Skill Assessment.
Enterprise Generative AI Practitioner (EGAIP): (coming soon)
---
In Summary
We've explored how responsible AI practices can help build trust in AI systems that are fair, accountable, transparent, and human-centric and the challenges and opportunities of implementing general AI principles in different domains and contexts.
We have also shared some examples of how organizations can adopt responsible AI practices, such as creating frameworks, conducting impact assessments, engaging with stakeholders, and ensuring governance and oversight and emphasized the importance of collaboration and dialogue among sectors to foster a culture of trust and responsibility in AI.
Responsible AI practices are not only a moral duty but also a strategic advantage for organizations that want to leverage the power of AI for good.
If you want to learn more about how to implement responsible AI practices in your organization or sector, you can contact us at engage@cads.ai or visit our website.
---
Lead your team towards a responsible AI adoption.
Get the CADS.AI Responsible AI Certificate Today
Discover Now
---
About CADS.AI
CADS.AI is a cloud-based Skills Intelligence Platform used by companies to develop their employee skills across all divisions, departments, and levels to achieve optimum business performance and transform into a data-driven organization. CADS.AI is focused towards increasing data literacy as the most critical skill set for modern business. CADS.AI provides value by offering data-driven learning pathways that connect HR systems with learning. Supporting individuals and organizations in developing and deploying effective skill sets for businesses. The company has been featured in well-respected publications and news portals such as CNN, Daily Express, TechWire Asia, TheEdge, MalaysiaKini, and Digital News Asia. For more information, please visit https://cads.ai.
#CADSAI #skillsintelligence #dataliteracy #AI #HR