Review Your Business With A Data-Driven Organization Report (DDO).
Here's how to strengthen your business strategy: incorporating innovative techniques for growth and profitability.
In today's world of fast-paced business, relying on outdated methods can lead to future failures. The key to future success is embracing data-driven culture by leveraging cutting-edge technologies. However, becoming a data-driven organization requires more than investing in tools and hiring data professionals. Companies must make data analytics a fundamental part of their business strategy, culture, and processes to stay competitive. This is where CADS AI comes in.
Transforming digitally is the number one priority of most companies. However, a digital business cannot exist without data & analytics. If an organization struggles with digital transformation, perhaps they haven't given enough thought to data and the potential for valuable insights. - Gartner
CADS AI has created a powerful reporting tool for modern businesses, the CADS AI Data-Driven Organization (DDO) Report, which enables any organization, enterprise, or teams to use and steer their digitalization journey. With the DDO Report, organizations can get valuable insights and alignments into their current state and future vision with the adoption of data-driven practices.
Why is the report so critical?
The Report organizes in sights from a framework that focuses on 6 critical dimensions: analytics, data, strategy, organization, technology, and talent. Extensive global research has shown that organizations that adopts these practices achieve exceptional levels of revenue, profitability, value, and overall organizational performance. Regardless of their maturity levels.
The CADS AI DDO Report provides valuable insights & recommendations on how to address gaps these areas and more: advanced decision analytics, data quality, data science sandbox, function-specific data analytics capabilities, real-time data analytics, big data and IoT, data governance, data solution architecture, data security and privacy, data warehousing, C-level data & analytics roles, data access for frontliners, data-literate organization, data-driven insights; decisions, embedded and networked data science teams, experimentation, and fail-fast and recover philosophy and more.
Here's a look at what is actually in a CADS AI DDO report.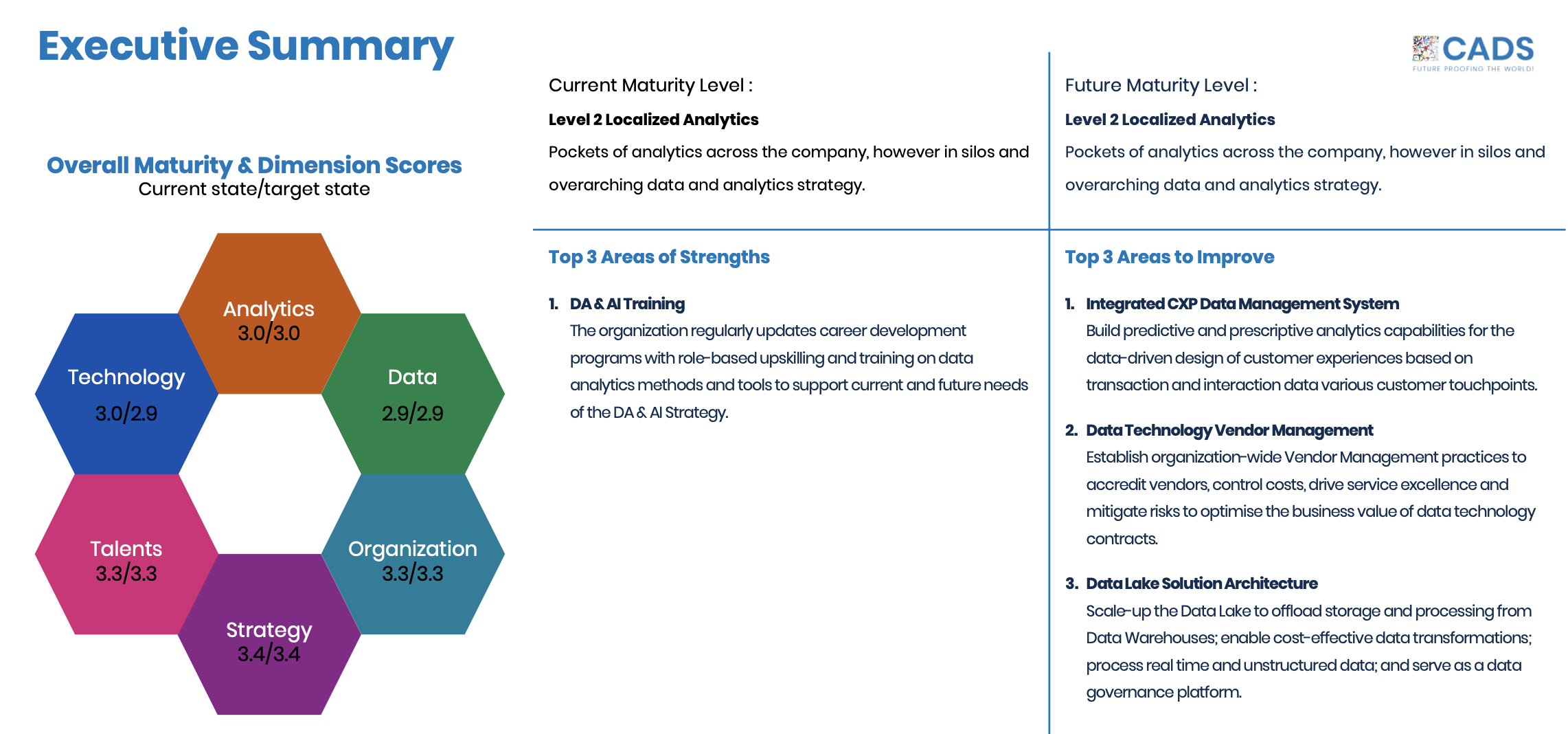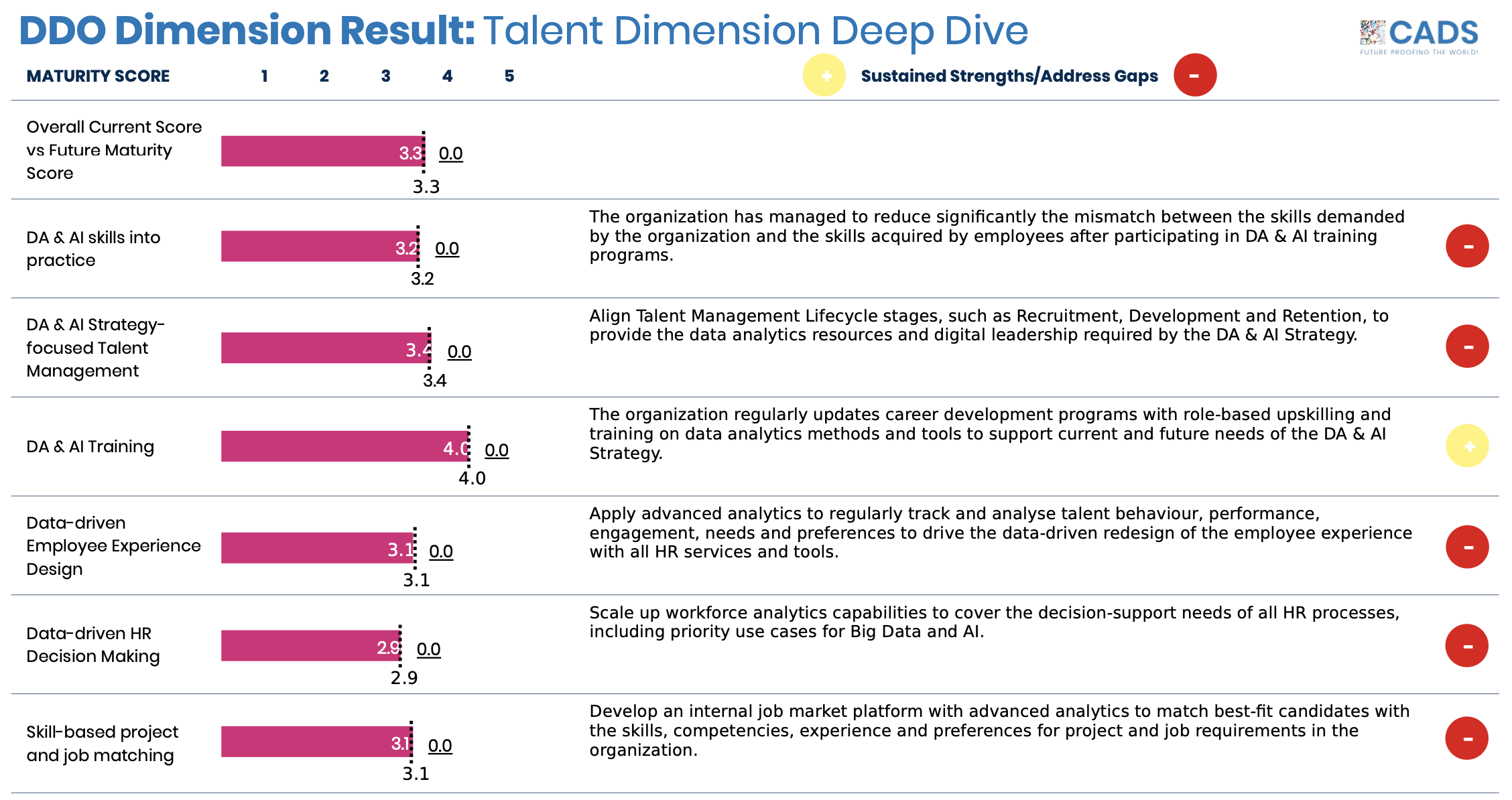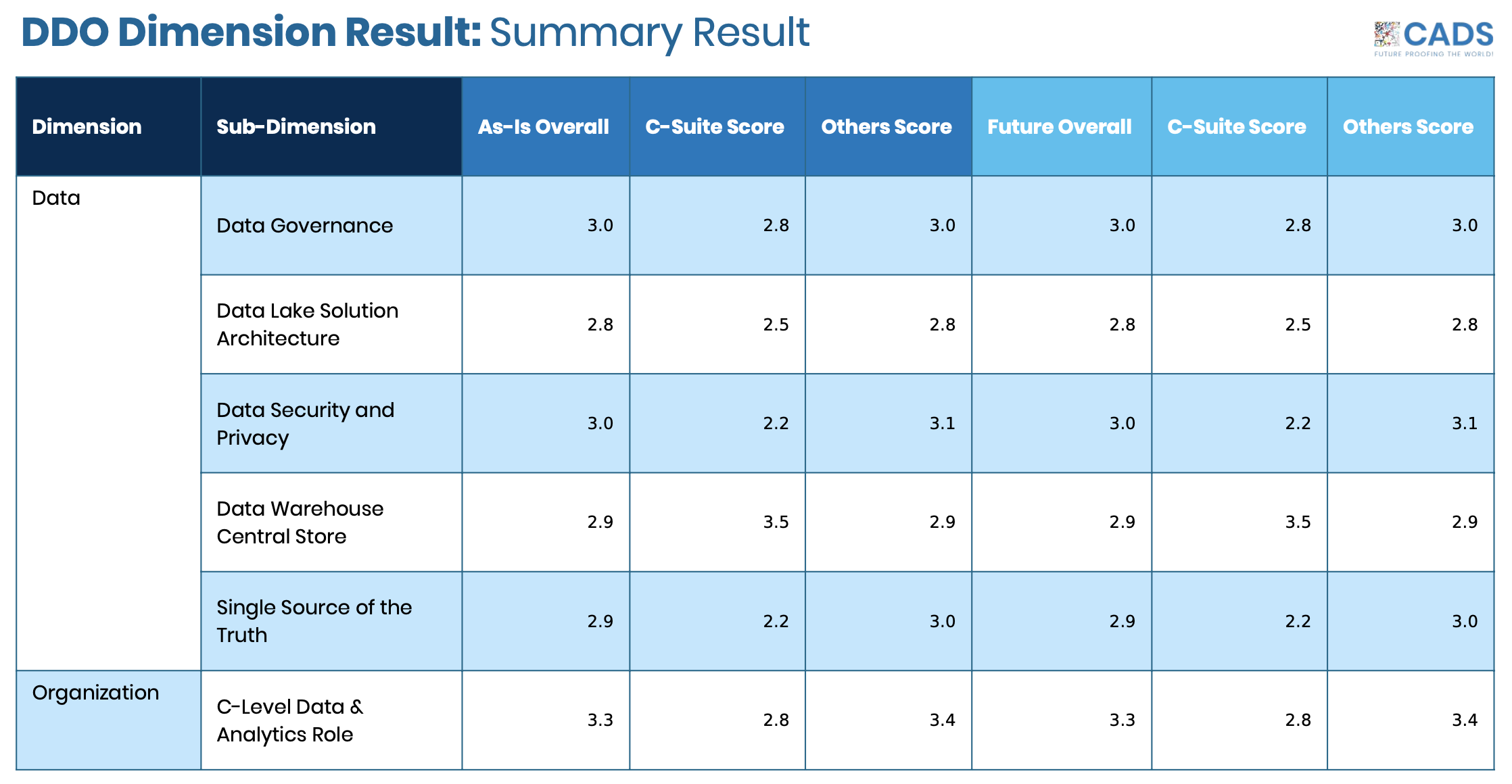 ---
Get Key Improvement & Recommended Actions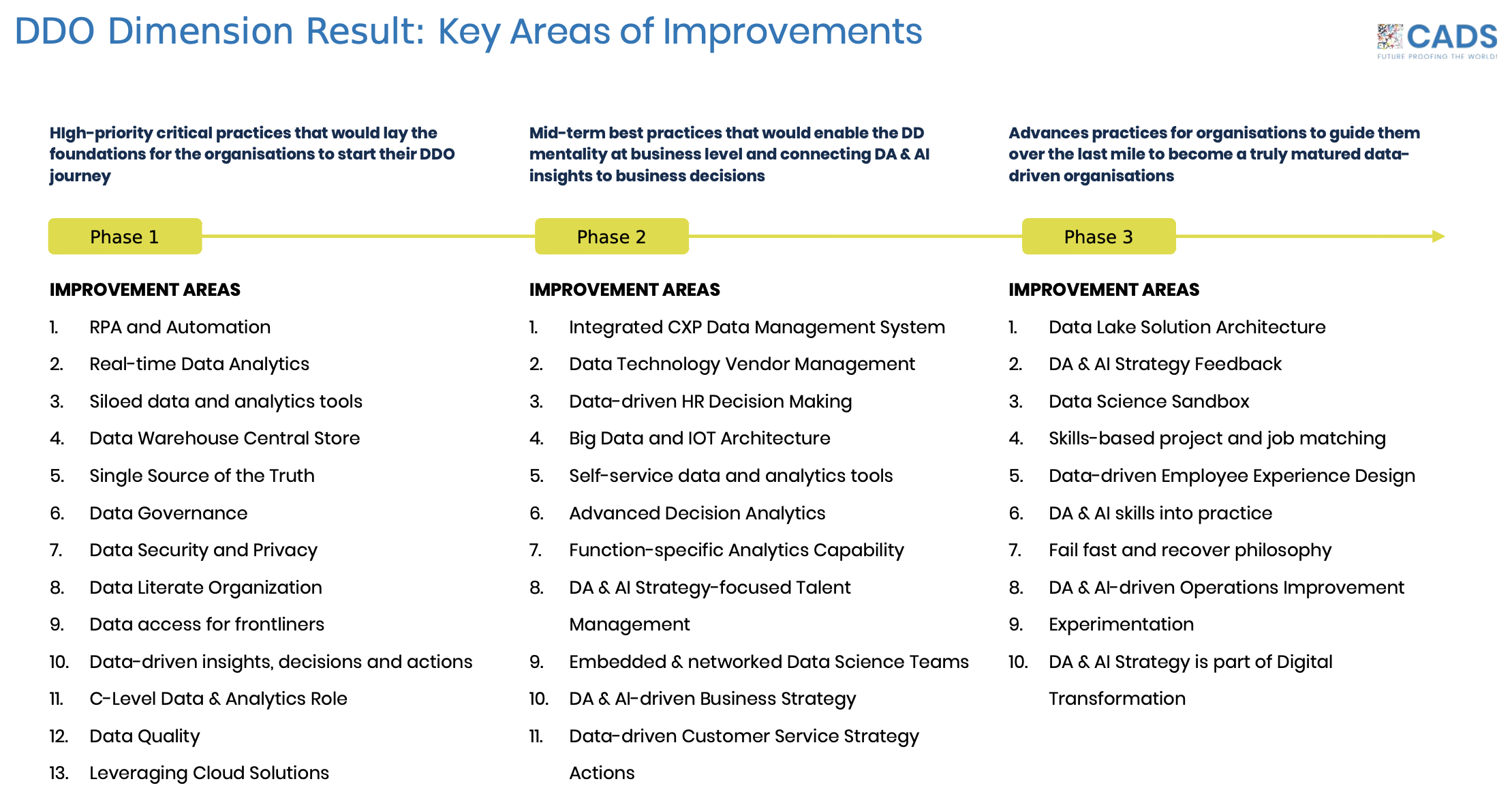 Regardless of the maturity status of your organization, we are able to give you a customised action plan for 6, 12 or even 24 months. These recommendations can be further adjusted to reflect your organizations business objectives and goals.
---
See If Your Current & Future Plans Are Aligned
Check what is the future vision and the adoption progress. You should be as forward looking as as possible, it is imperative to look for zero or negative future vision gaps from the DDO report. This may indicate that the future state of your organization may not be fully communicated or aligned across the entire organization as you'd initially thought.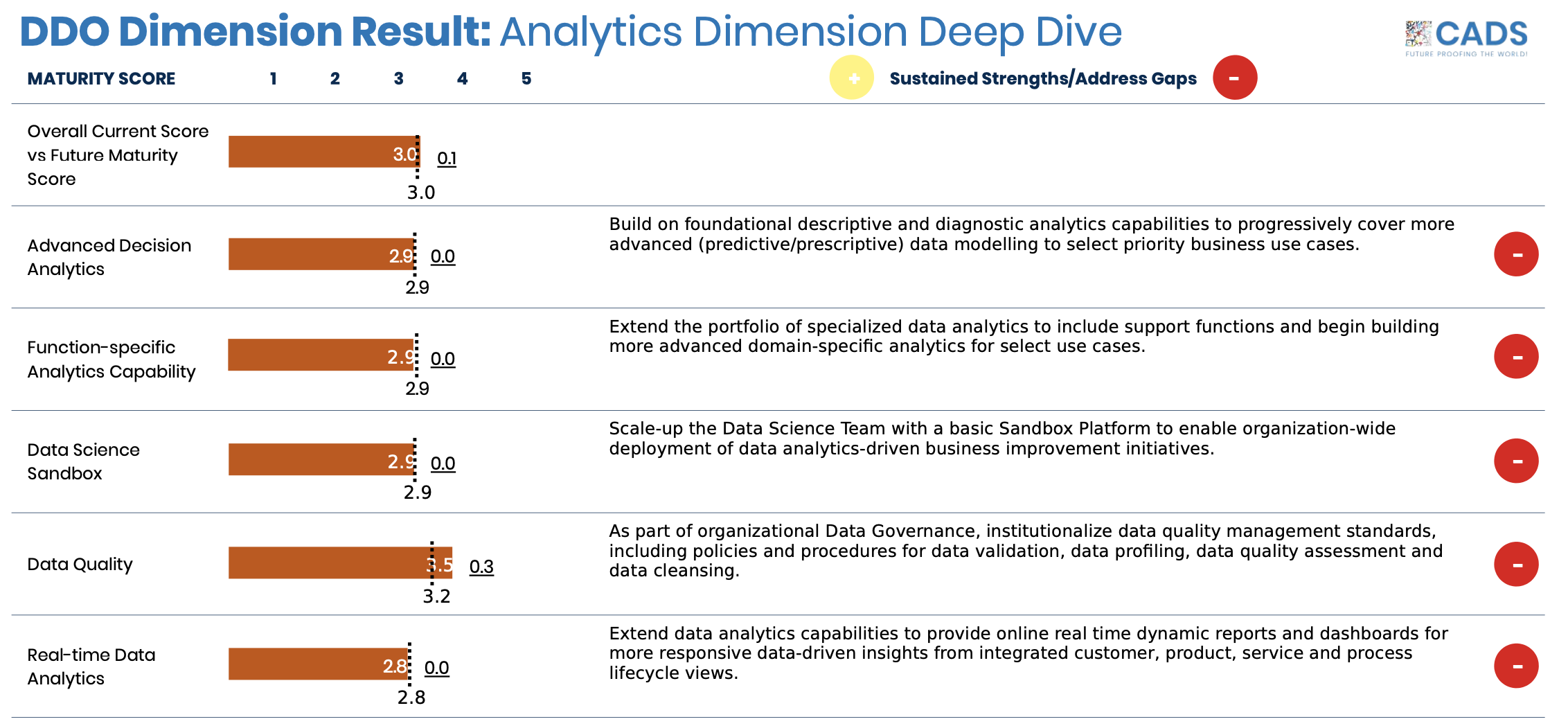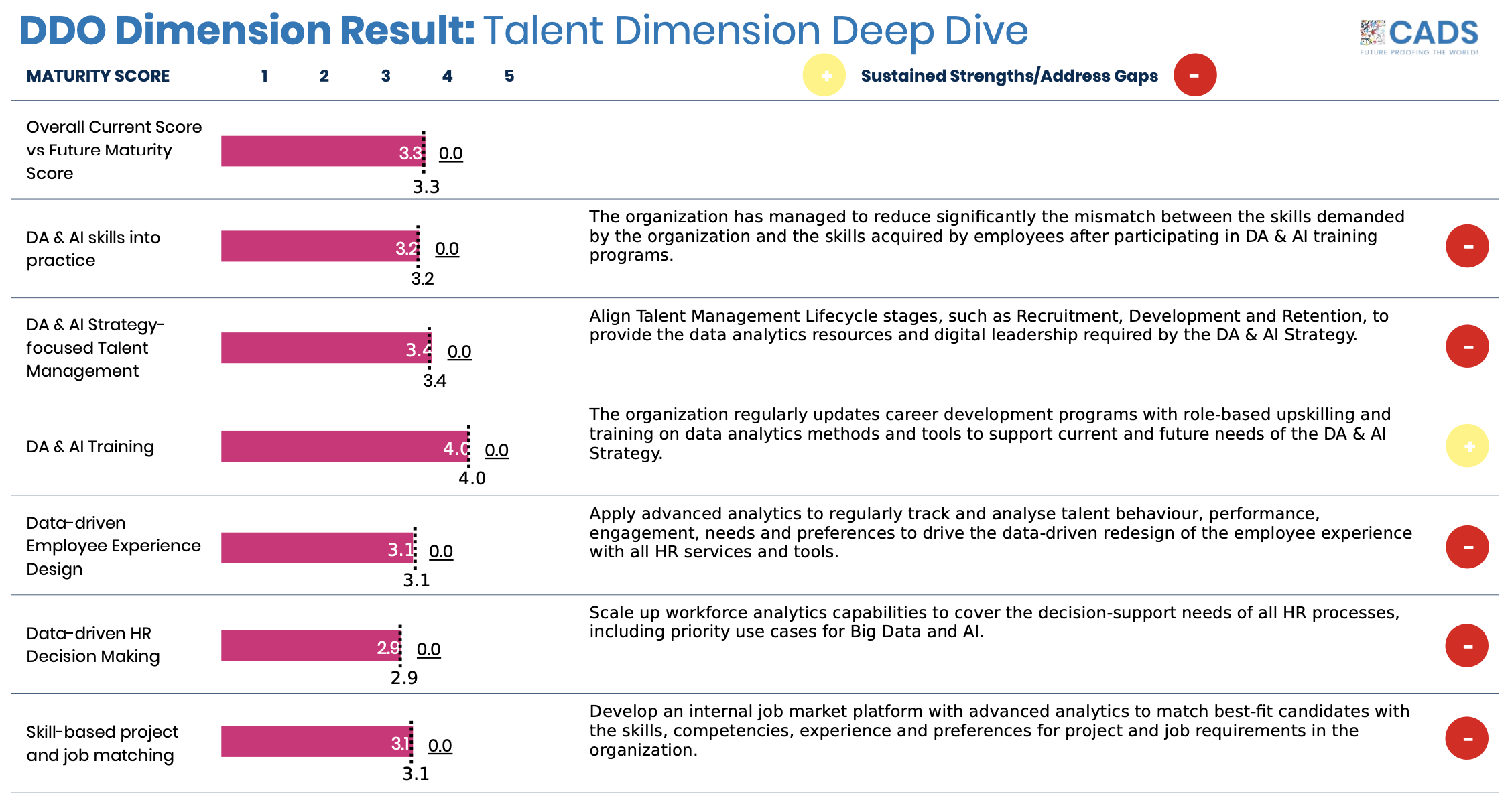 ---
Identify Misalignments Between Leadership & Workforce.
Organizations now have the opportunity to see if the misalignments between what the C-level plans and rest of the organization does is critical. The DDO report generates insights in the as-is and future vision.
The images below shows alignments for two dimensions (organization and data dimensions) of DDO report. Research has shown that it is imperative such misalignment are fixed immediately as they will impede an organization progress in its data-driven journey.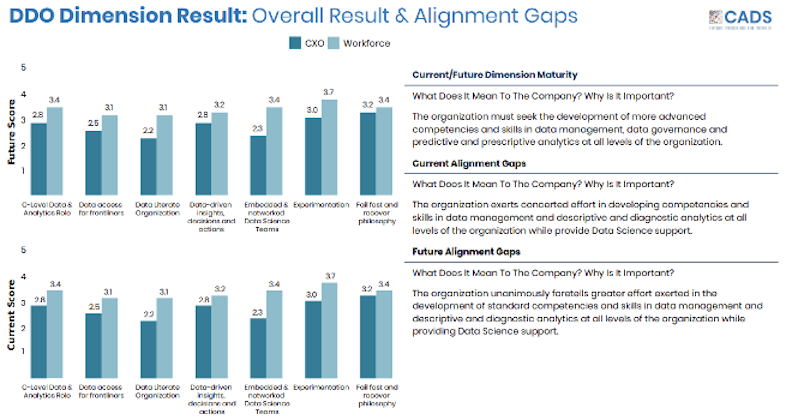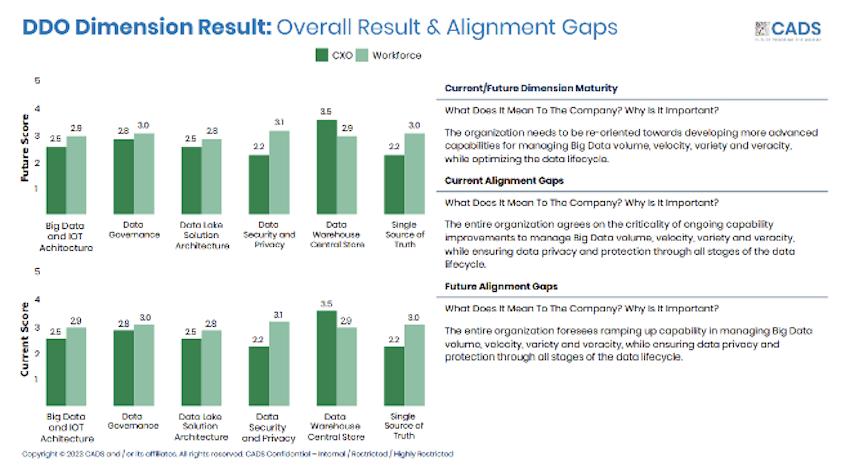 The DDO report generates insights on misalignments between what the C-level goals really are and what the rest of the organization does.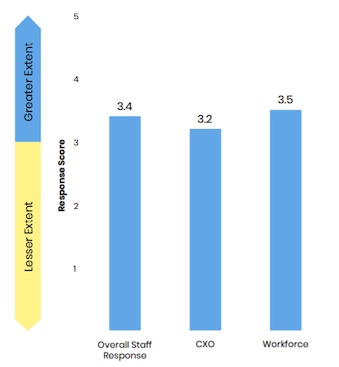 ---
Compare Your Organization's Maturity Against Your Industry.
The report enables organizations to compare their digital maturity progress against competitors and industry. Knowing the level of maturity of your competitors is essential to stay ahead of the curve.
The chart below shows the as-is and future maturity scores of one organization against the industry norm (IT sector in particular).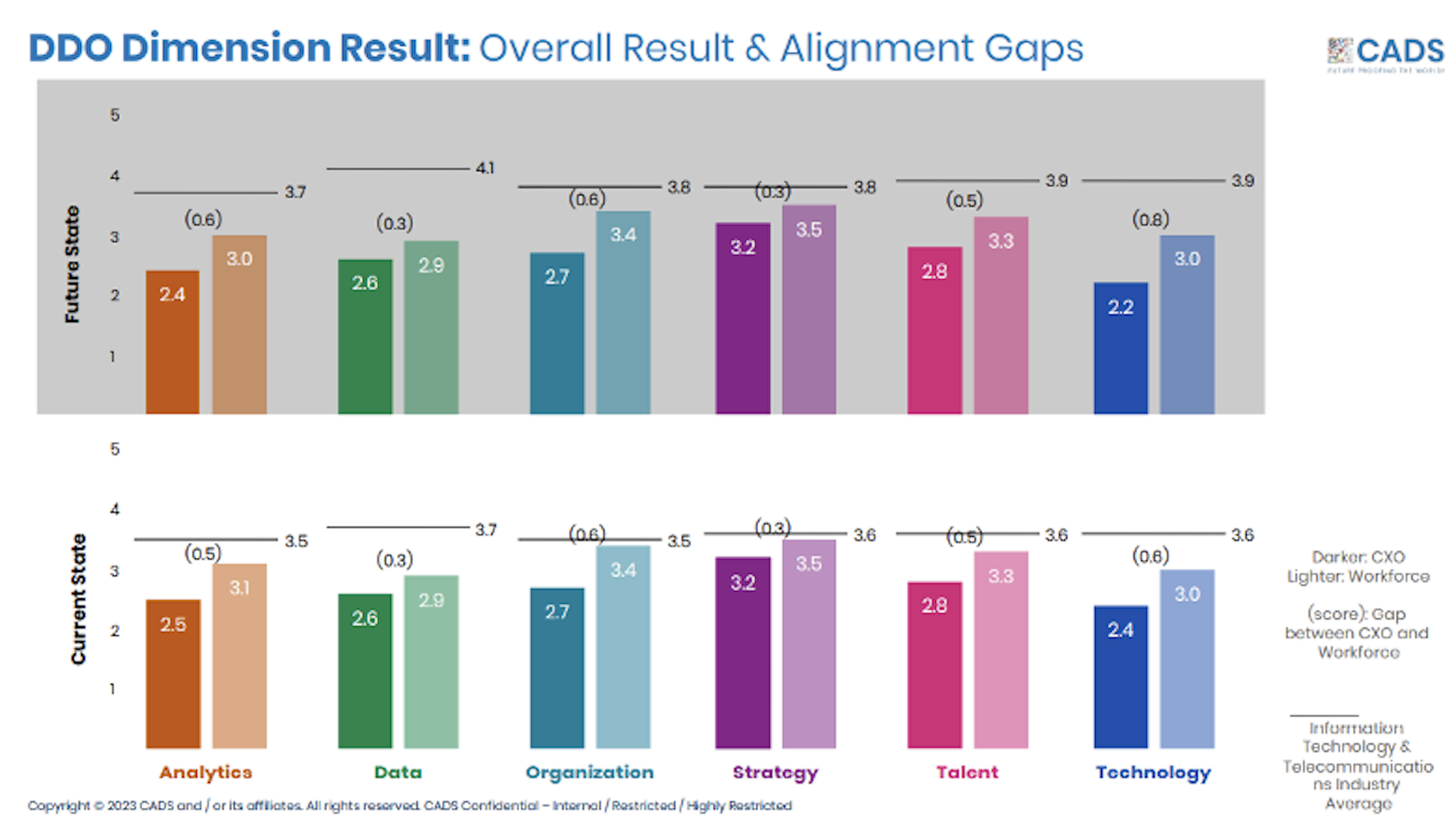 ---
Gain clarity on your digital journey now.
request for a FREE trial today.
Book A Call
The CADS AI Maturity Assessment & Report deep dives and gives you clarity in running an organization, these comparisons against 6 critical dimensions in your organization to show you an in-depth snapshot of gaps & provide recommendations for change in just a couple of weeks.
These are the 6 Critical Dimensions for any organization to check for.
ANALYTICS
The DDO Analytics dimension are practices for acquiring data analytics, like tools and methods to enable your business to function in the future state.
Get insights on ANALYTICS gaps in your business.
1. Advanced Decision Analytics
2. Data Quality
3. Data Science Sandbox Usage
4. Function-Specific Data Analytics Capabilities
5. Real-Time Data Analytics
6. Initiatives that should be prioritized leadership
---
DATA
The DDO Data dimension digs into practices for the optimal use of data assets in your organization.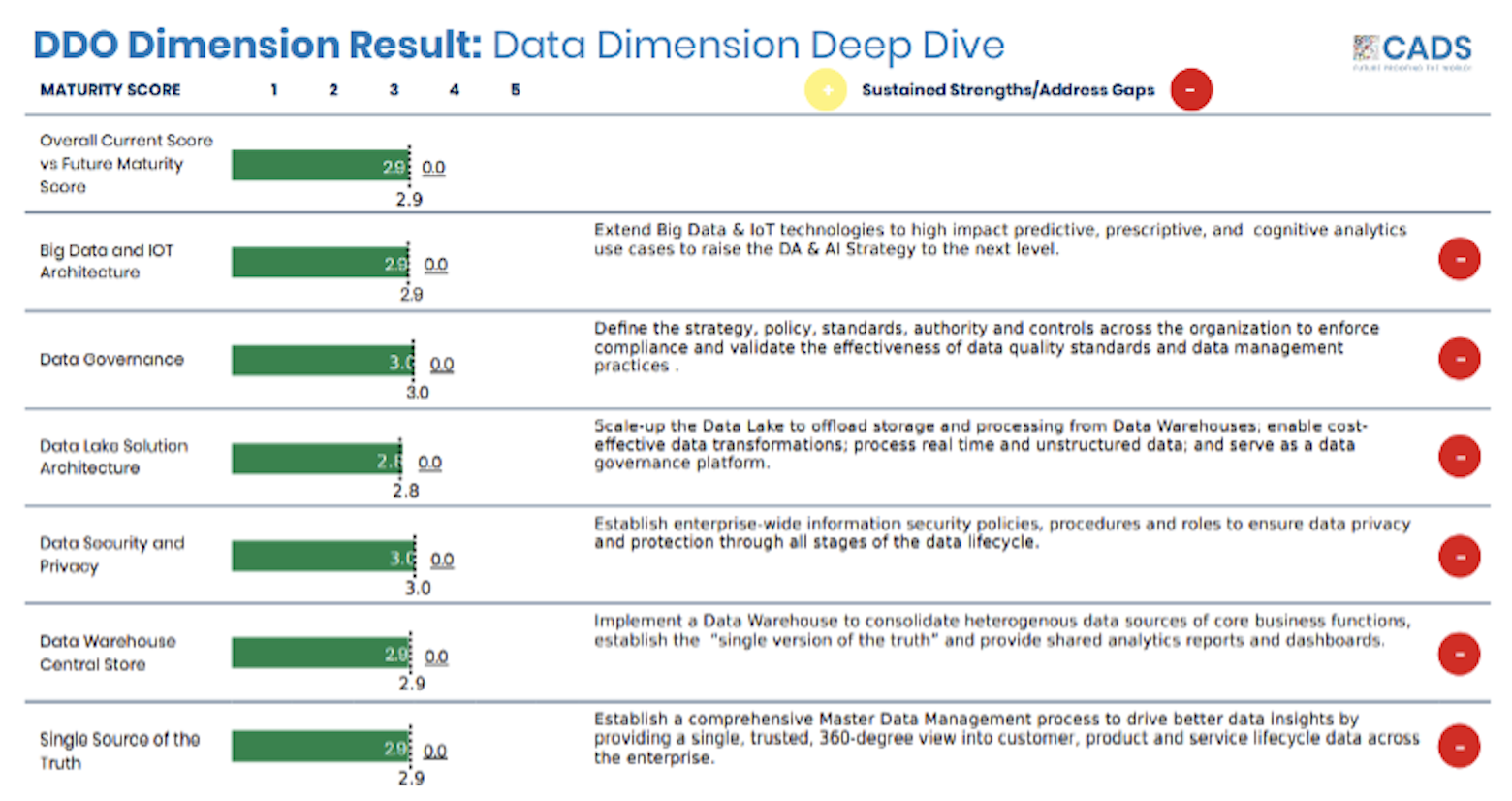 Get recommendations on DATA gaps :
1. Big Data and IOT Architecture Review
2. Data Governance Review
3. Data Lake Solution Architecture Review
4. Data Security and Privacy Review
5. Data Warehouse Central Store Review
6. "Single Source of Truth" Procedures & Processes Review
7. Future developments that should be prioritized.
---
Organization
This dimension sets out practices for data driven culture change and competency development to support how your organization can communicate in a data driven state.


Learn from insights found in your ORGANIZATION, and how that affects business decisions:
1. C-Level Data & Analytics Roles Review
2. Data Access for Frontliners Process & Procedures Recview
3. Data Literate Organization Maturity Levels
4. Data Driven Insights & Decisions
5. Embedded & Networked Data Science Teams Review
6. Experimentation Procedures & Governance
7. Fail Fast and Recover Philosophy Review
8. Prioritization of future developments.
---
Strategy
Perhaps one of the more critical areas to define are practices for creating and executing a Data Analytics & AI (DA & AI) strategies. As the world progresses and business functions give way to AI support. How will your organization cope with the adoptions in strategy.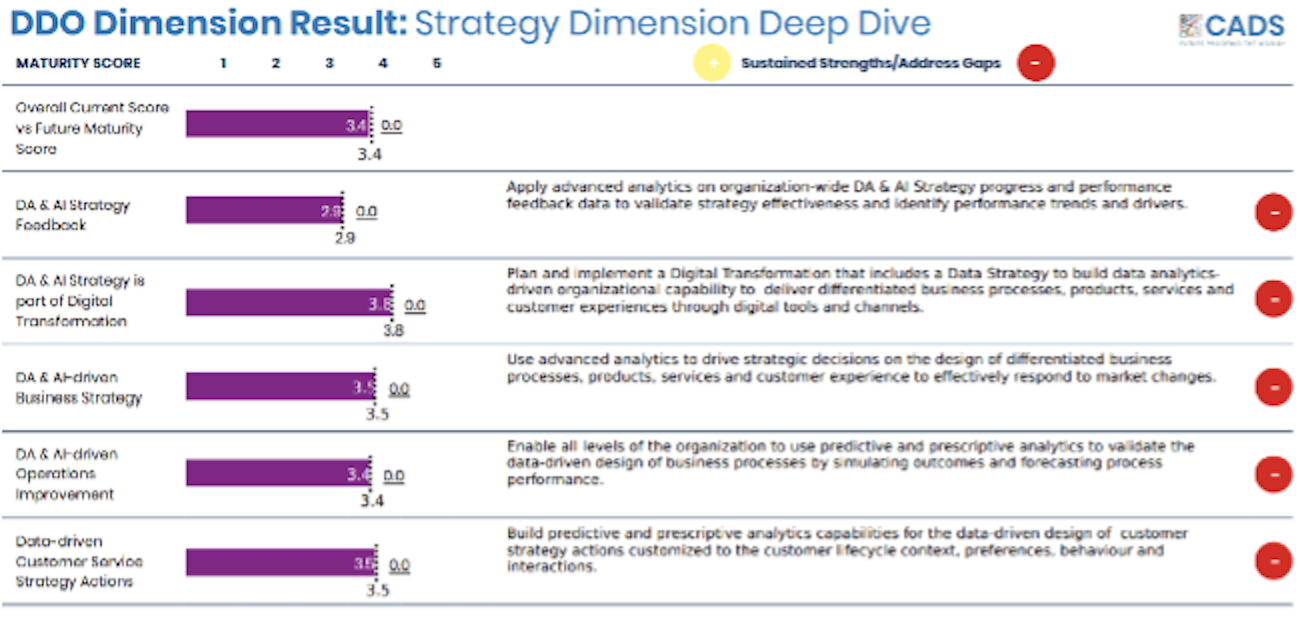 Uncovering key STRATEGY gaps for future adoption of cutting-edge technology to boost business decisions.
1. DA & AI driven Business Strategy Review
2. DA & AI Digital Transformation Alignment Review
3. Data-driven Customer Service Strategy Actions Review
4. DA & AI Feedback Strategy Review
5. DA & AI Operations Improvement Review (critical future state review)
6. DA & AI Technology Strategy Prioritization vs 5 Dimension Review
---
Talent
An important yet mostly overlooked dimension of  human capital requirements and the practices for managing data leadership and technical talent towards your future state. Failures here can mean that you'd have invested or spent more.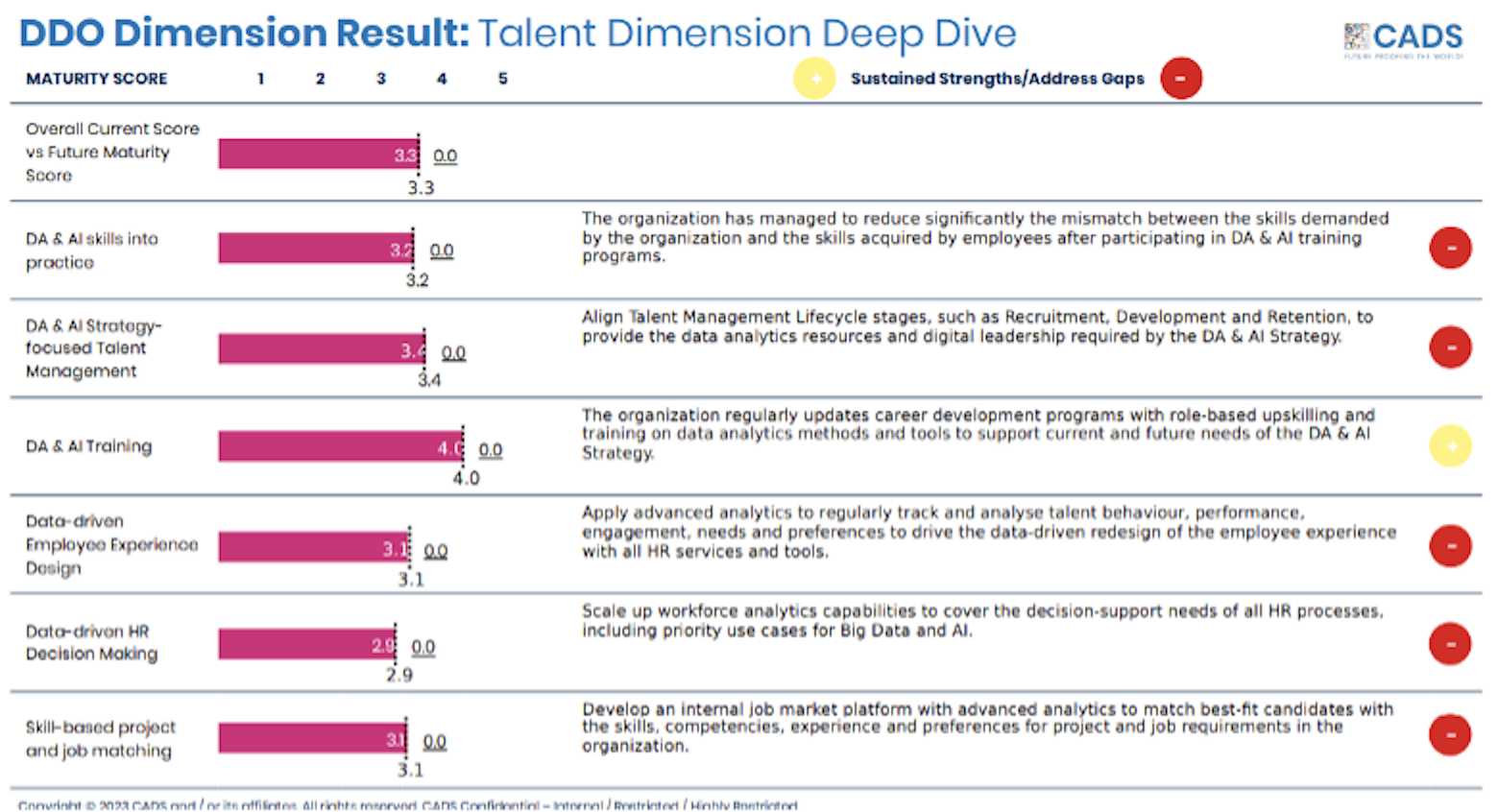 Set your organization TALENT growth and align it with your business goals.
1. DA & Ai Training Review
2. Data Driven Employee Experience & Design Review
3. DA & AI Strategic Talent Management Review (future demand planning)
4. Skill-based project and job matching (grooming internal talent for future plans)
5. DA & AI Skills Practice Review
6. Organizing future plans into talent preparations
---
Technology
A key contributor towards any future plans are establishing a future proof technology platform or plans to enable enterprise data analytics tools and methods. Sorting through what you need now and tomorrow can be difficult and expensive if not aligned and monitored.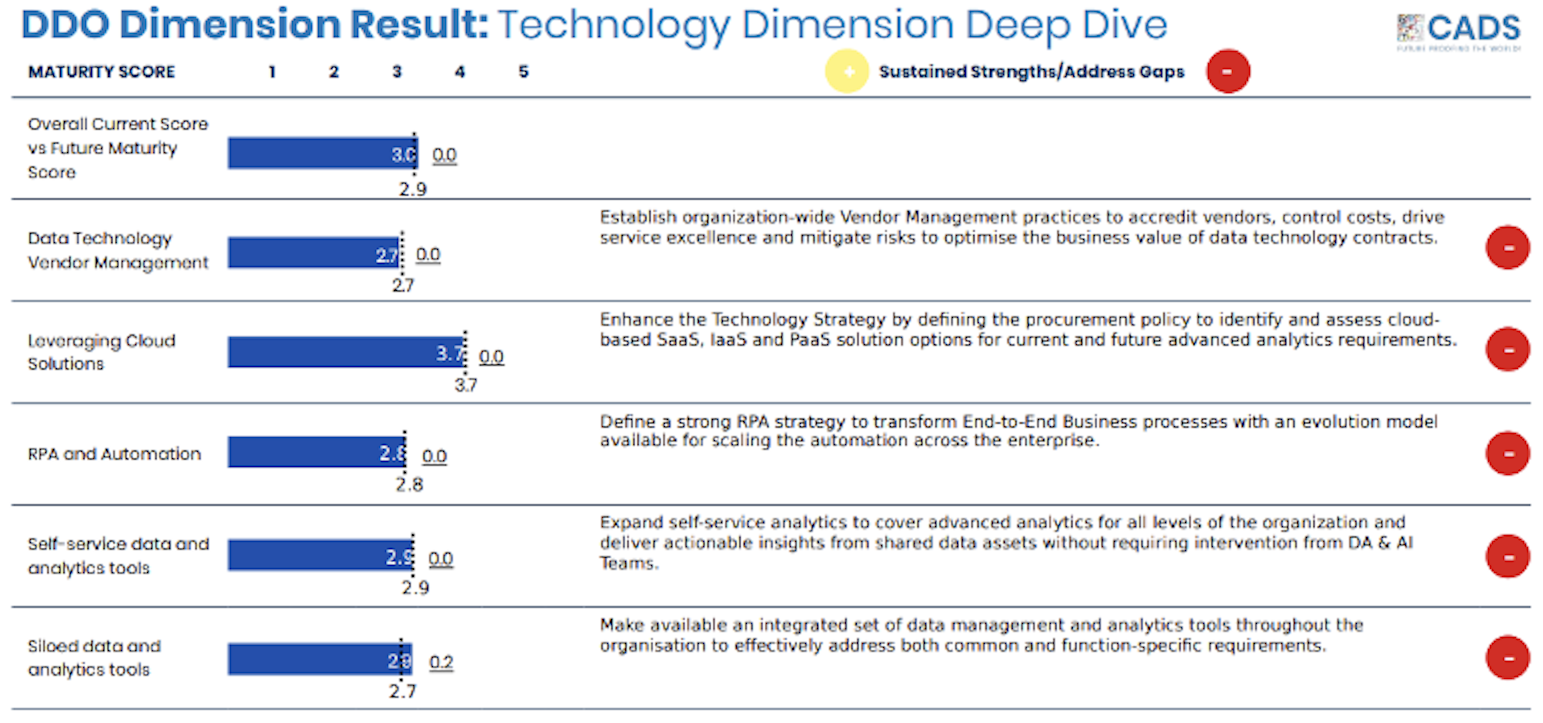 Plan by aligning future business solutions with TECHNOLOGY changes today.
1. Siloed Data & Analytics Tools Review
2. Data Technology Vendor Management Review
3. Cloud Solutions & Data Automation Review
4. Self-service Data & Analytics Tools Review
5. RPA & Automation Review
6. Integrated CXP Data Management Systems
7. Technology Planning Review
---
Did you know, the CADS AI - DDO Maturity Report encapsulates a set of practices that are embraced by leading-edge, mature data-driven organizations around the globe.
Here's what a client had to say about his DDO experience with CADS AI
Today, KPJ is poised to become a data-driven organization, there is an organization-wide acknowledgement that data is at the heart of decision-making. Now, when challenges are posed, questions are asked or a strategy is designed, our people automatically reach for data to support their decision-making. The DDO Assessment by CADS has helped us to reach that clarity to fuel KPJ forward. -  Nantha Subramanian, CDO KPJ Healthcare Berhad
A mature data-driven organization constantly reviews its progress over time. Most successful organizations today activate a review every 6 – 12 months, ensuring they track their growth trajectories and fix gaps as it arises.
Where do you stand in your digital transformation today? Do you have a forward view of your internal challenges? Or perhaps your organization currently prioritizes technology investments but how does it fare in the long view to stay resilient in tomorrow's increasingly data first world?
These are key points that have been incorporated into CADS.AI Data-Driven Organization Report and have been adopted over the last eight years with improves through countless discussions with C-suites across Malaysia and Singapore and over 50 clients, 20 of which are billion-ringgit revenue businesses.
So what are you waiting for? Contact CADS AI today for a demo call and start your journey to becoming a data-driven organization!
email us for a FREE Data-Driven Organization Maturity Report.
---
#datadriven #dataliteracy #leadership #businessresilience #changemakers #digitaltransformation #digital #report