CADS Starts Movement To Inspire Women With DATA FOR HER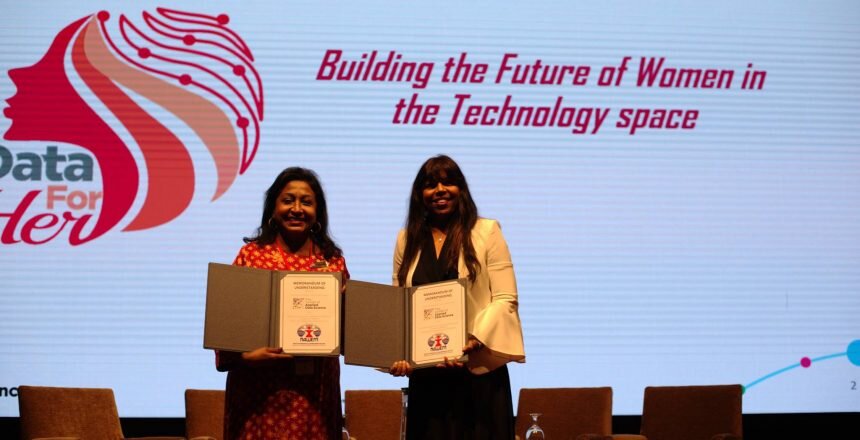 KUALA LUMPUR, 5 MARCH 2019 – In Asia Pacific, the STEM field is dominated by males (75%) in comparison to females (25%). The situation is largely similar in Malaysia. It is also male-focused, but marginally better with 71% men. As of 2015, women made up less than half of the graduates in Malaysia in engineering and technology fields. Even more worrying is that in 2018, science and technical graduates have the highest unemployment rate among all other graduates in the country at 20.7%.
Clearly, there is a gender gap in the technology sphere. The Center of Applied Data Science (CADS) believes that the right ecosystem needs to be cultivated to encourage the participation of women in technology-related jobs. With this sentiment in mind, CADS today launched DATA FOR HER, a unique chapter that encourages the participation of women in data science while fostering comprehensive equality, diversity and inclusivity in the technology industry.
At the launch, a Memorandum of Understanding (MoU) was signed with the National Association of Women Entrepreneurs of Malaysia (NAWEM) to tackle the issue of talent shortage in the technology industry via the increased participation of women.
Speaking at the launch of DATA FOR HER, Sharala Axryd, Founder & Chief Executive Officer (CEO) of CADS said, "Technology is a thriving industry offering an explosion of opportunities for women and men alike. However, studies show that there aren't enough women in this field to bring a valuable voice and perspective to help drive innovation. The increase of women in the workforce can potentially increase Malaysia's GDP (Gross Domestic Product) by as much as RM6 billion to RM9 billion as they are recognised as a pivotal resource to drive economic growth as highlighted in the Budget 2018 announcement."
"Through DATA FOR HER, we aim to engage with females from secondary schools, universities and the workforce to break the ceiling through tailor-made initiatives that will ultimately close the gender gap in the technology industry. Partnering with NAWEM in this movement will bring awareness to the current situation, highlight the growth opportunities available and bring the benefits of gender diversity to light."
According to Sarojini Ruth Rajahser, President of NAWEM, "The World Economic Forum reports that in absolute terms, women will face 3 million job losses but only 0.55 million gains, more than five jobs lost for every job gained. Given this landscape, we believe chapters like DATA FOR HER is crucial and we are pleased to launch this programme at our IR4.0 and the Future of Work conference. We look forward to working hand-in-hand with CADS in increasing the number of women in technology."
The IR4.0 and the Future of Work conference is one of NAWEM's initiatives to address concerns and engender awareness among the local employment workforce and supply participants with the know-how to tackle upcoming challenges.
As part of this three-year MoU, CADS will build a network of fellow women in data science and have access to female data scientists and executives to potentially work together on research initiatives where CADS will play the role of mentor and provide project ideas, project assessments and co-supervise research projects. CADS will also take on the role of an expert in any activities that requires expert advice or consultation. In addition, CADS will bring together technology companies and solution providers to work on cutting-edge solutions in addressing problems and identifying opportunity to increase participation of women in technology. NAWEM on the other hand will work towards bringing together focus groups from the industry and academia. NAWEM and CADS will co-organise workshops, training, and other activities to drive the growth of Data For Her and increase the adoption of STEM amongst women in Malaysia and across ASEAN.
-END-
About The Center of Applied Data Science (CADS)
Established in October 2015, The Center of Applied Data Science was set up to respond to the critical need for real world qualified data scientists and data professionals in the face of digital disruption. Its aim is to nurture a new generation of Data Professionals who can meet and exceed the needs of today's data disrupted world through an accelerated and rigorous program of best-of-class mentorship that will solve real business challenges within organizations, as well as real-world situations outside. The Center of Applied Data Science partnered with The Data Incubator, New York, US to bring ASEAN's first Data Science accelerator program to transform the brightest science and engineering talents in South East Asia into qualified, top-notch quality data scientists. Further information about The Center of Applied Data Science is available at https://www.thecads.com.
This Press Release was published on the following sites;
The Star Online - Need for women in data science
New Sarawak Tribune - Make use of technology to grow, women told
The Borneo Post - Fatimah: Embrace Industrial Revolution 4.0 which is here to stay